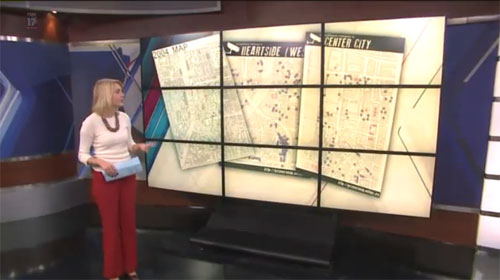 Our map of surveillance cameras in downtown Grand Rapids was featured on FOX 17 news a few weeks ago. They highlighted the differences between our 2014 map and a map produced in 2004 by MediaMouse.org.
Some highlights from the story:
Grand Rapids Police Lieutenant Pat Merrill reviewed the maps and could not confirm if all cameras are legitimate, but said the majority of these cameras are private.

"This is something we are doing to each other; it's not something being done to us by government," said Merrill. "That's a big important difference: Big Brother coming and putting a camera up on you, than your neighbor choosing to erect a camera on their own property."

Although Merrill said detectives will seek out video during investigations, he said the one dome camera at Pekich Park at Cherry Street and South Division is the only camera installed and monitored by GRPD. Over the past few years, Merrill said the amount of crime at Pekich has dwindled.

"We have little interest in monitoring the city of Grand Rapids' people and their comings and goings via video, no interest in that," said Merrill. "But we have trouble spots. What we want is the ability to be able to erect something like that, monitor it while the trouble is still active, and then when the trouble goes away, we can pull the video and move on."
Not surprisingly, Lt. Merrill didn't mention that there has been a recent push to give police access to the private cameras in real-time, thereby making the issue of ownership a moot point.